Michael Baker International celebrated its 80th Anniversary in 2020
From the 80th Anniversary Edition of Signature
Discover our rich history and iconic projects with our interactive timeline
In Room 122 of the Penn Beaver Hotel in Rochester, Pennsylvania, Michael Baker Jr. opened his engineering and consulting firm on May 1, 1940, just as the country was struggling to climb out of the Great Depression. He knew he was taking a big risk, but he wanted to design and build big things – roads, bridges, dams, canals, tunnels and similar structures that civil engineers worked on. Michael Baker Consulting was his third attempt to start his own business, which started so slow that its future seemed like a long shot.
After sending out hundreds of letters to prospective clients and following up by phone, he finally got his first bite: a $25 surveying job. By the end of it's first year, Michael Baker Consulting started to take root, beginning with a $40 drafting assignment, and grew to eight employees.
As the United States prepared for the war raging in Europe, Michael Baker Jr. felt ready to take on government contracts for military bases and airfields. Officials in Washington insisted he was too young to handle such big projects. But his persistence paid off.
In 1942, he broke into military work when an engineering firm in Pittsburgh subcontracted him to draw up a topographic and boundary survey for the construction of an ammunition dump in Kentucky. By outside appearances, it looked like he was in over his head. Undaunted, Michael Baker Jr. went to work, rounding up every engineer and surveyor he knew and running newspaper ads for skilled laborers and guaranteeing top wages. He and his crew not only completed a contouring map, grid system and boundaries for 15,000 acres – they finished the job 15 days ahead of the deadline.
The Army Corps of Engineers took note of the young entrepreneur's hustle and quality work and offered him more jobs. From the Azores to the Aleutian Islands to the jungle of Brazil, Michael Baker and his nearly 1,000 employees strengthened the country's military defenses.
Michael Baker Jr.'s travels to military bases around the world did not diminish his enthusiasm to plan and build the postwar infrastructure of his native Pennsylvania. In 1943, his consulting firm won a contract for the location study and design for the first major freeway in Pittsburgh – the Penn-Lincoln Parkway East. The project was the Company's first foray into designing, building and improving road corridors, complex highway interchanges and urban streetscapes.
Around the same time, the Company also moved into architectural work, designing and building elementary and secondary schools, colleges and universities, hospitals, churches, airports, stadiums and transit systems around the country.
GAINING GROUND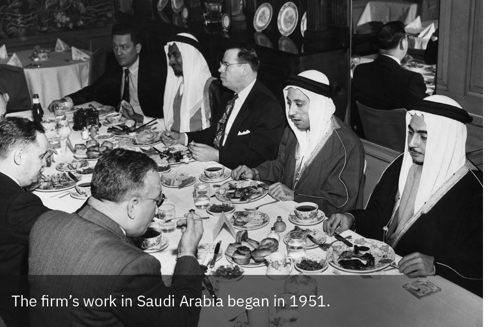 In 1951, Michael Baker Jr. was appointed consulting engineer and construction administrator to the Kingdom of Saudi Arabia. Over the next three years, his Company built a private hospital for the royal family, several airports, a modern public water system and other infrastructure. The first of many overseas contracts to come, the Saudi work established Michael Baker as an important international engineering and consulting firm.
As always, Michael Baker Jr.'s international ventures were balanced with local projects. In 1956, he was named consulting engineer to the Pennsylvania Turnpike, a relationship the Company maintains to this day. And in 1960, he took on the job of designing and transportation and civil infrastructure for one of the highest-profile projects in Pittsburgh – Three Rivers Stadium. Another crowning achievement was designing Beaver Stadium, the 44,000-seat stadium of his alma mater, Penn State, in 1960.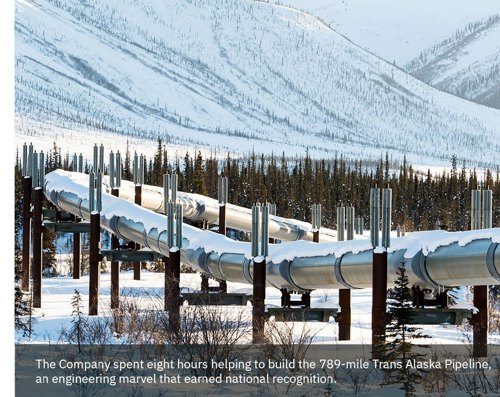 By then, the Company had grown to more than 1,000 people and Engineering News-Record magazine ranked it as the largest architectural-engineering company in the country.
Then, between 1969 and 1977, Michael Baker International contributed to building the 789-mile-long crude-oil pipeline from Alaska's North Slope in the arctic to the warm-water port of Valdez. The 48-inch diameter pipeline was an engineering marvel, traversing fragile permafrost, three mountain ranges, several major earthquake faults and hundreds of rivers and streams. For its work, Civil Engineering magazine honored the Company with the Outstanding Civil Engineering Achievement Award.
BREADTH OF SERVICES
Michael Baker International continued to concentrate on the field of transportation, and by the early 1990s, it had engineered thousands of bridges and 10,000 miles of road, often working on the nation's most complex transportation networks. Towering above the water and snaking through dense cities or remote rural areas, its bridges and highways are monuments of modern life.
The Company also had airport design in its DNA, building airfields during World War II with bulldozers to creating high-tech airports around the country today. Designing airports as though they were little cities, its engineers build runways, passenger terminals, people movers, baggage claim areas, parking lots and rental car facilities.
The Company's long history of service to the U.S. government dates back to the early 1940s, when Michael Baker Jr. won military contracts from the U.S. Army Corps of Engineers. Over the decades, the Company has planned, designed and constructed projects for the Army, Air Force, Navy and Marine Corps, as well as the Department of Homeland Security, Department of State, Department of Energy, Department of the Interior, Department of Justice, and the Environmental Protection Agency, among others.
Through its Planning Practice, Michael Baker International has shaped the future of communities and developed shared spaces that are sustainable, convenient and attractive. A team of planners, landscape architects and public engagement experts makes sure a project aligns with a community's vision and connects people to their environment in meaningful ways.
And because they believe it's important to be responsible stewards of the land they build on, Michael Baker engineers have become experts in providing Environmental services, including remediating former military sites and removing dangerous industrial materials from the land left behind by shuttered steel mills in Pittsburgh and other plants around the country.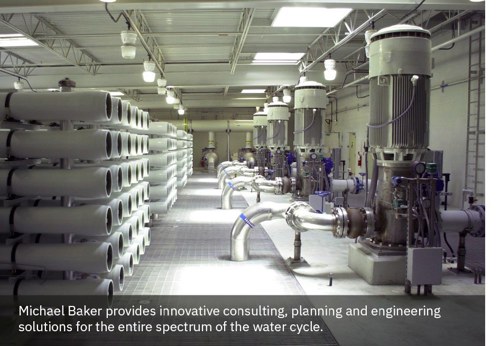 Water services is another way the Company has expanded its portfolio. When public water in California became brackish and unsafe to drink, the California American Water Company in Monterey Bay hired Michael Baker International to purify it. The new water desalination system and 17 miles of pipeline the Company built gave residents an abundant supply of clean water.
Michael Baker International has also been on the forefront of Energy development, including oil and gas transmission, since its early days in the oil fields of western Pennsylvania, and remains a key player in the production and transmission of energy resources throughout the world.
The Company also develops and utilizes the latest technology to make the communities it serves safer, more accessible, more sustainable and more livable. Within the last decade, designing intelligent transportation systems has become a priority, which means using drones and other technologies to inspect bridges, streamline traffic flow and reduce highway fatalities.
80 YEARS LATER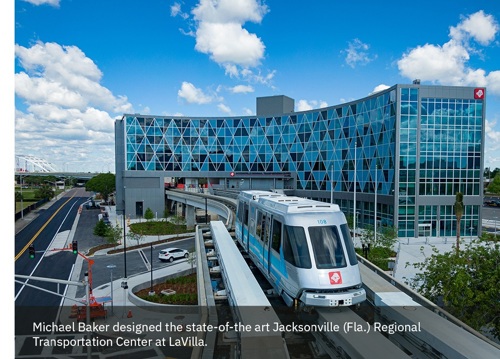 Today Pittsburgh-based Michael Baker International operates with the same visionary spirit and intense work ethic of its late founder. Offering engineering, architectural, environmental and construction services – among many other offerings – from nearly 100 offices around the world, the Company's diverse roster of infrastructure projects is as impressive as its reach.
Embracing technology, transforming communities and bringing people together through the marvels of engineering, the firm continues to fulfill Michael Baker Jr.'s original mission to make the world a better place.
Whether it is redesigning and constructing a busy stretch of interstate, modernizing airports or erecting a state-of-the-art bridge, Michael Baker International's more than 3,000 employees share a commitment to excellence and a dedication to Making a Difference – for its clients, communities and one another. Learn more about Michael Baker International's rich history and iconic projects at 80years.mbakerintl.com.