Each year, the International Bridge Conference (IBC) recognizes projects of distinction. Medals that are awarded are named in honor of the distinguished engineers who have had a significant impact on the bridge engineering profession worldwide.
This year, two of Michael Baker International's projects received recognition – the Scioto River Pedestrian Bridge in Dublin, Ohio, and the Winona Bridge in Winona, Minnesota. 
Scioto River Pedestrian Bridge | Dublin, Ohio
Eugene C. Figg Jr. Medal: For a single, recent outstanding achievement in bridge engineering that, through vision and innovation, provides an icon to the community for which it was designed.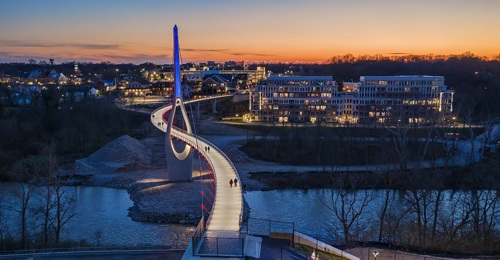 Appropriately dubbed "The Dublin Link," the cable-supported pedestrian bridge structure over the Scioto River has a 500-foot cable-supported main span and provides a much-needed connection between the City of Dublin, Ohio's historic district downtown with the new Bridge Street District. But the bridge does more than just connect communities – it provides an iconic, signature landmark to the city, forming an "S" across the Scioto River and rising to a single tower 169 feet high. It holds the distinction of being the longest single span, single tower S-shaped suspension bridge in the world.
The procurement method on the project – CMGC – was the first of its kind in Ohio. The City of Dublin utilized this method to accelerate delivery and optimize efficiency. Michael Baker, selected by the City for the firm's expertise in cable stayed bridge erection and deep knowledge of CMGC delivery, served as the Construction Manager (owner's representative) and provided inspection services. 
Read more about the Scioto River Pedestrian Bridge
Winona Bridge | Winona, Minnesota
Abba G. Lichtenstein Medal: For a recent outstanding achievement in bridge engineering demonstrating artistic merit and innovation in the restoration and rehabilitation of bridges of historic or engineering significance.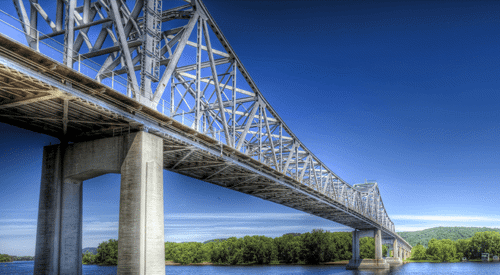 The Minnesota Department of Transportation hired Michael Baker's Minneapolis team to serve as the final design Engineer of Record, taking on the challenge of extending the Winona Bridge's service life another 50 years, preserving the historical integrity of this 75-year-old bridge and satisfying the requirements of Chapter 152 state law.
The rehabilitation of the Winona Bridge represented the most complex historic truss bridge rehabilitation ever undertaken by the Minnesota Department of Transportation (MnDOT). To extend the bridge's life another 50 years, the team performed an extensive bridge analysis, evaluation and rehabilitation that preserved the historical integrity of the 75-year-old structure.