In May 1940, Michael Baker, Jr., opened his engineering and consulting firm in a small hotel room in Rochester, Pennsylvania. While our Wolf Pack has grown to include more than 3,500 employees across nearly 100 offices from coast-to-coast since then, our guiding light remains unchanged: We Make a Difference.
As Michael Baker International's Founding Month comes to an end, we not only reflect on our company's more than 80-year legacy of Making a Difference, but also recognize the significant contributions made by our Wolf Pack over the past year. Learn more about how our colleagues have recently supported our neighbors, local communities and the next generation of industry professionals below.
Bridges to Prosperity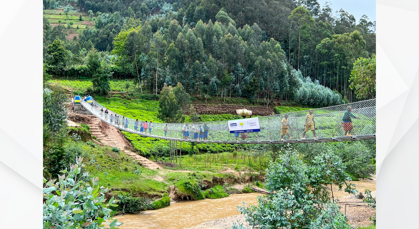 Since 2016, Michael Baker has partnered with the nonprofit Bridges to Prosperity to construct footbridges in remote, underdeveloped areas of the world to improve access to vital resources. In March 2023, a team of Michael Baker colleagues successfully completed a two-week bridge build in Rwanda, Africa. While in Rwanda, the team constructed the Kigusa Trailbridge to connect nearly 3,500 local community members with vital resources.
Great Lakes Region
Pittsburgh, Pennsylvania, Colleagues Hosted Graduate Student Tour of ALCOSAN Plant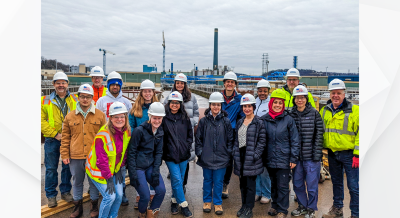 Students and professors from Carnegie Mellon University's Civil Engineering graduate program joined Michael Baker's CM/CI team for a visit to an ALCOSAN Wastewater Treatment Plant.
Chicago, Illinois, Office Hosted ASCE Student Chapter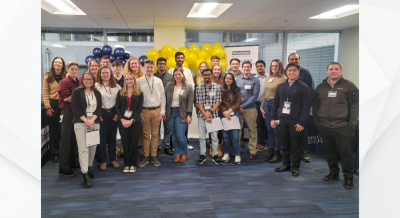 Our Chicago office hosted students from the American Society of Civil Engineers student chapter at the University of Michigan as part of the chapter's annual Chicago trip.
Mid-Atlantic Region
Alexandria and Manassas, Virginia, Colleagues Participated in Plane Pull to Benefit Charity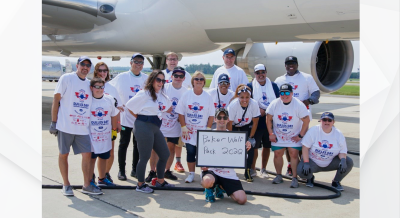 Ten members of our Alexandria and Manassas offices participated in the Dulles Day Festival and Plane Pull to benefit Special Olympics of Virginia.
Columbia, South Carolina, Office Volunteered with Habitat for Humanity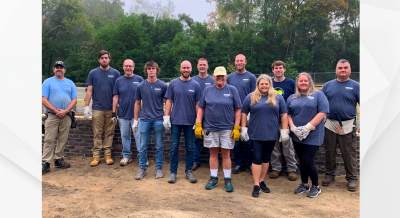 In partnership with United Way of the Midlands, our Columbia office built floor frames for two new homes.
Northeast Region
Consulting and Technology Solutions (CTS) Experts Led Technology Demo for Student Drone Club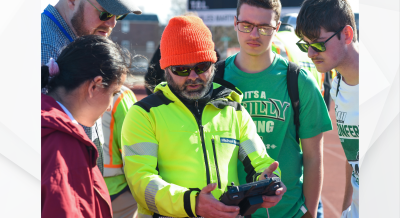 Colleagues from our CTS vertical visited Northeast High School in Philadelphia, Pennsylvania, to provide hands-on demonstrations of the latest UAS and wearable LiDAR technologies and engage students from the school's Drone Club.
Newark, New Jersey, Colleagues Climbed for a Cause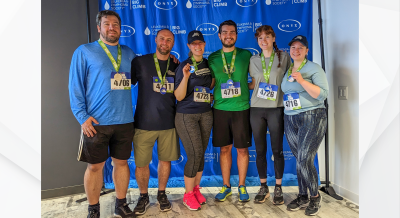 Members of our Newark office participated in the Leukemia & Lymphoma Society's Big Climb NJ Fundraiser.
Southern Region
Florida Colleagues Participated in Student Earth Day Celebration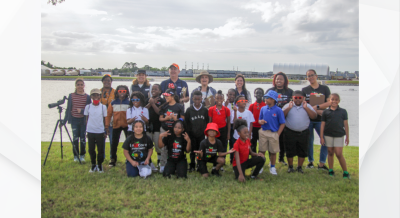 Members of our Wolf Pack helped lead an Earth Day celebration for students at Marine Corps Support Facility (MCSF) Blount Island.
Ridgeland, Mississippi, Colleagues Participated in Student Outreach Events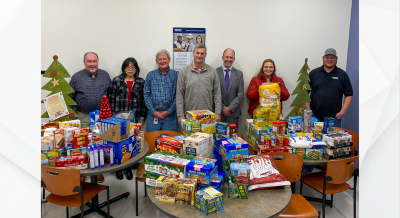 Colleagues from our Ridgeland office participated in a career exploration event at Velma Jackson High School and the Mississippi State University Career Fair.
Western Region
Denver, Colorado, Office Volunteers Led Camp Everitt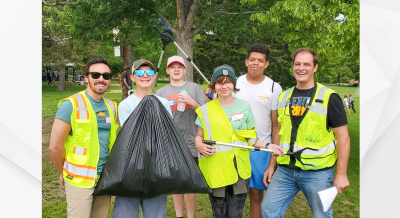 Our Denver office partnered with Everitt Middle School for its second annual Camp Everitt STEM program that teaches students about sustainability in our built environment.
San Diego and Carlsbad, California, Offices Supported Feeding San Diego
Volunteers from our San Diego and Carlsbad offices packaged food for Feeding San Diego, the leading hunger-relief and food rescue organization in San Diego County