Today is World Architecture Day, an annual celebration of architectural achievements and the people who design them. At Michael Baker International, our Architecture Practice balances the pragmatism necessary to deliver achievable design solutions to our clients with the desire of each one of our architects and building engineers to improve our built environment, including public spaces, workplaces and our communities, while reducing adverse environmental impacts. From simple and effective architectural solutions to iconic architectural statements, our Architecture team is Making a Difference for our clients from coast-to-coast. 
The Jacksonville Regional Transportation Center (JRTC) at LaVilla in Jacksonville, Florida, is just one example of how our Architecture team is marrying form and function to achieve a spectacular result. 
Michael Baker, as part of a joint venture team, provided design services for a state-of-the-art regional transportation center in the LaVilla neighborhood in Jacksonville's downtown district. The $57.5 million combined mass transit hub improves the flow of traffic by integrating multiple modes of transportation, including local and regional bus networks, taxis, rental car services, elevated rail service, bike share, car share, and any future rail service. An elevated urban plaza also features a large open area with mixed-use retail opportunities.
The JRTC at LaVilla's central artistic and architectural innovation is the glass curtainwall, a progressive design hallmark envisioned to express acceleration and mirror client Jacksonville Transportation Authority's philosophy of transportation. To achieve the iconic look, the team worked with the glazing manufacturer, creating a striking interlocking design of triangular and trapezoidal shapes that were printed on the glass. The coloring process involved printing the ink on the glazing to achieve two separate colors on the same piece of glass, an uncommon feat. The panels were assembled in a factory, accelerating construction and reducing costs, then hung like puzzle pieces on the façade. In addition to aesthetics, the curtainwall enhanced sustainability, allowing for natural daylighting. This impressive Architectural centerpiece is on display for the thousands of passengers that travel through the JRTC at LaVilla each day.
In honor of World Architecture Day, we also caught up with Chantal Frances and Caroline Scorzelli, two colleagues in our Architecture Practice, to chat about their roles and the industry at large.
Chantal Frances, Architectural Department Lead
Philadelphia, Pennsylvania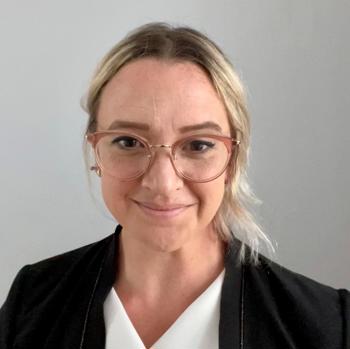 Michael Baker: What inspired you to pursue a career in architecture?
Chantal Frances: I always loved art and math, and no other careers combined those things. I loved the idea of learning art and being creative while using math and science. Once I was in university, I realized I love the stories of buildings and places and that just solidified that I wanted to work on civic and public projects.
Michael Baker: What is a typical day like in your role?
Chantal Frances: No two days are ever the same! I really enjoy the constant problem solving. I get to collaborate a lot and be a part of multidisciplinary teams so I'm always learning. I typically have a mix of project proposal development, design and technical reviews, project planning tasks, and meetings and calls. 
Michael Baker: What makes your work in architecture challenging and exciting?
Chantal Frances: It's exciting to work on projects that work across so many disciplines and have multiple stakeholders. Transit projects are dynamic projects. They center around mobility and connection and are community assets, so the project approach needs to be collaborative. Challenges for public and civic projects are often in the project approach and design process, as the best outcome is going to be driven not only by final state but also the level of community engagement, the construction phasing and the ongoing ease of operation for owners.
Caroline Scorzelli, R.A., Senior Architect
Boston, Massachusetts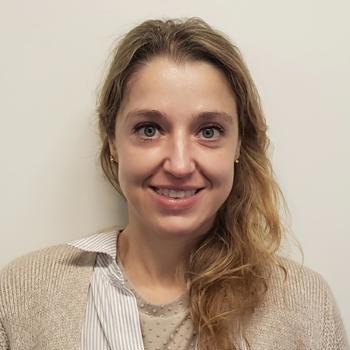 Michael Baker: What makes your work in architecture challenging and exciting?
Caroline Scorzelli:  As an architect in the Federal Service group, I have the opportunity to support the Department of Defense (DoD) agency mission statement through planning, design and construction. It's challenging and exciting working in an integrated approach; interdisciplinary design requires collaboration between disciplines, stakeholders and contractors to meet the project goals, and often results in shared learning experiences.
Additionally, it's an exciting challenge working on complex projects that require more detailed and specific scope and working on projects in various locations. International, intercontinental U.S., continental U.S. and various climate zones all have different design and construction requirements.
Michael Baker: How do you anticipate the architecture industry evolving in the next 5-10 years?
Caroline Scorzelli: I anticipate the BIM [Building Information Modeling] platform becoming more effective in project development, an increase in Design-Build projects, and a change in the evolution of project development due to technological advances and lessons learned.