The practice of landscape architecture influences the way people perceive and experience their communities. People are attracted to places that are aesthetically pleasing, unique, comfortable, accessible and safe. Our landscape architects are dedicated to shaping places through context-sensitive design solutions that are meaningful, environmentally sensitive and individual to each project. A thorough understanding of local values,history and comprehensive knowledge of the physical site constraints are essential to achieving design consensus, acceptance and, ultimately, implementation. We are mindful of community resources and respectful of the principles of sustainable design and green building.
Featured Project | Laguna Beach Village Entrance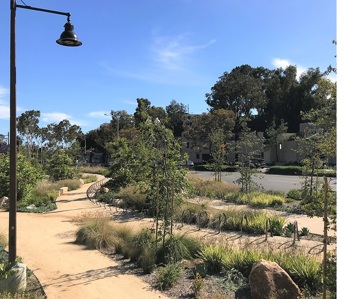 Michael Baker provided community outreach, planning, engineering, landscape architecture, and support services to beautify the highly visible Laguna Beach Village Entrance in Orange County, California. 
The final design was influenced by the unique Laguna Beach Village and Canyon character and significantly improved the overall aesthetics and functionality of the area by providing new walkways and trails separated from the traffic on Laguna Canyon Road, seating areas for social interaction, bicycle parking to encourage multi-modal transportation, and electric vehicle charging stations. This safe, efficient and functional pedestrian environment was delivered on time and within budget and can be maintained by the City at a reasonable cost.
Related Services
Commercial, Office and Industrial Projects
Computer Simulations and Graphics
Concept Plans
Construction Administration
Cost Estimating
Design Guidelines
Education Facilities
Fire Management Plans
Green Infrastructure
Greenways
Habitat Restoration and Revegetation
Highways and Infrastructure Aesthetics
Hospitality Facilities
Land Use Planning
Lighting Designs
Low Impact Development
Maintenance Plans and Manuals
Master Planned Communities
Master Plans
Open Space Planning
Park Design
Planting and Irrigation Design
Site Furniture
Site Grading and Drainage
Site Planning
Streetscapes and Urban Design
Sustainable Design
Trails and Open Space