Alicia McConnell, P.E., sUAS, is the Unmanned Aircraft Systems (UAS) Program Manager for Michael Baker International and a committee member of the AASHTO TRAC™ (Transportation and Civil Engineering) and RIDES (Roadways In Developing Elementary Students​) programs. We caught up with her virtually to learn more about her career path and involvement in AASHTO's educational outreach efforts.
What is your role at Michael Baker International? 
I started as a civil engineer performing road, highway and site designs. In 2016, when UAS started to garner interest among Michael Baker's leadership, I got approved to fly and perform pilot projects for our local office. About two years later, I was promoted to run the program. To do that job well, I gave it my full attention and worked on growing our UAS group across the nation.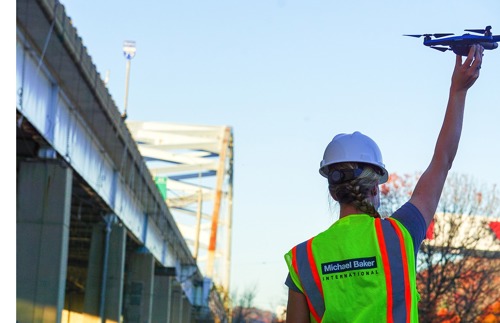 Now, we have over 30 pilots and do a variety of UAS missions to assist our different practices, including surveying and mapping, bridge inspections, communication tower inspections, construction inspection and monitoring, disaster assessments, building façade inspections, roof inspections and thermal analyses. We have standardized our internal pilot training and helped to implement similar policies/procedures for DOTs across the country. My day to day is supporting pilots across our offices and helping project managers implement technology into their projects to support our clients.
Tell us about your involvement in AASHTO's educational outreach efforts and how students are engaged.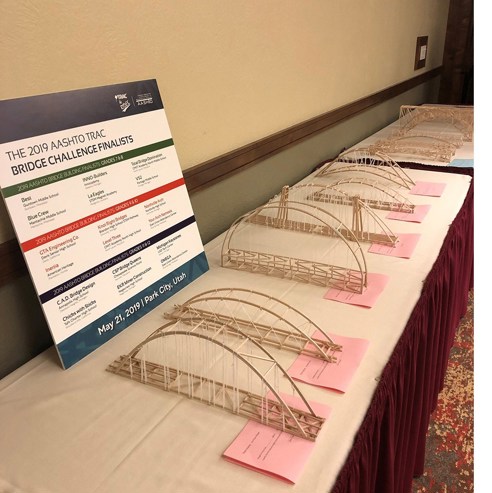 TRAC and RIDES are designed to support Science, Technology, Engineering and Math (STEM) classes. TRAC has eight modules that engage students in solving real-world problems, while connecting them to the working world of transportation. Students design bridges, build magnetic-levitation trains, plan a city, program automated vehicles or learn about environmental issues that impact transportation.
I got involved with TRAC and RIDES in 2014, when the programs needed volunteers and leadership to move forward. Michael Baker recognized the impact the programs had on future engineers and STEM careers and not only supported my involvement but also provided program sponsorships.
One of my main efforts was to reignite TRAC. In doing so, I worked with state DOT leadership to structure a program that would be efficient at providing resources to teachers, including the modules they can incorporate into their lesson plans. Most schools like to use the bamboo bridge building module. Students learn the basic mechanics of structures, how to model them in a software program and then build them with bamboo, glue and sometimes string. 
The TRAC Committee chooses an appropriate structure type for the ages of the students, ranging from seventh through twelfth graders. Those students form teams and prepare a paper, presentation and bamboo bridge for the competition. Committee members, myself included, grade all of the submissions and choose the top teams from each age group to compete at the national competition held at the AASHTO Spring Meeting. It is extremely difficult to choose the top students because we get so many great submissions! At the national competition, I serve as a judge during the presentations and help test bridge weight limits. We have had small, bamboo bridges weighing less than 90 grams that hold over 400 pounds!
How do students benefit from the programs now and into the future? 
I stay committed to TRAC and RIDES because of the exposure they provide to careers in civil engineering and the impact they make on individual lives. I am grateful for Michael Baker's continued support of the programs, particularly throughout the pandemic when student engagement is especially important.
When it comes to TRAC, students who work on the modules are putting in extra time and learning new concepts that I didn't learn until college. It is truly amazing to see how invested they become in the bridge building and research. I'm always impressed with their background knowledge of the bridge types and how they approach building the structure. We are Making a Difference in these kids' futures by giving them a bit of time, attention and opportunity to interact with us. While it's difficult to provide exact statistics, it is notable how many students, particularly in the most involved TRAC and RIDES states like Michigan and Mississippi, go on to enter STEM-related careers. It is rewarding to know that our programs can help prepare them for the future.