Unmanned aircraft systems (UAS) have made their mark in the engineering industry, pioneering new ways to capture images and data in difficult-to-access areas. From inspecting dams to supporting surveying and mapping missions to performing bridge inspections, UAS demonstrates numerous possibilities to provide value.
Hear from Michael Baker International's UAS expert Alicia McConnell, P.E., sUAS. As the firm's UAS program manager, she and her team of operators employ practical and creative uses of UAS for clients across the country, helping to minimize risks, improve safety and keep infrastructure projects on track.
We often think of UAS as only providing photos and videos. What are some new and interesting applications of the technology?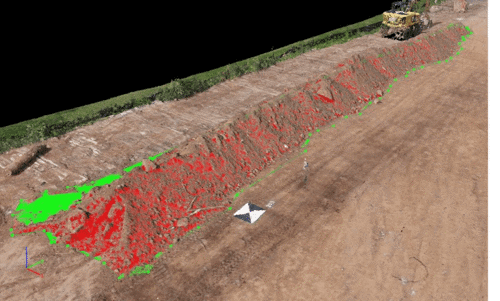 Our UAS technology supports our surveying and mapping projects through development of orthomosaics, digital surface models and contours from our UAS data collections. Our designers and clients rely on the high resolution and spatially correct data to take measurements of the ground features for their design, planning and environmental projects.
In other applications, we support our bridge inspectors with video and photo documentation of bridge elements that help them to monitor the structural health of the infrastructure now and over time. Also, our environmental group uses UAS for restoration monitoring and assessing current conditions in environmentally sensitive areas. Essentially, we can gather critical data and images without impacting the site.   
Anything else we can expect to see more of as UAS technology evolves?
I expect to see advancements in automation and AI as interest and proficiency in UAS usage increases. Our team is working on ways to make bridge inspections even safer for our personnel by testing automated flight software and automated detection of defects. There is still so much more potential for this technology to improve our workflows as consulting engineers and pass that efficiency along to our clients. We want to do our part to advance the UAS industry in the right way. From the hardware perspective, more and more manufacturers are developing UAS that have advanced flight capabilities that will aid in a pilot's ability to collect the data that is needed. I anticipate digital twins will become more popular as a way to manage infrastructure assets and to monitor that asset's health over time.
Tell us about one of the more interesting applications of UAS you've experienced.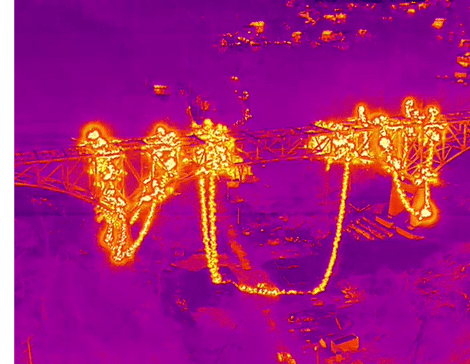 One of our more unique UAS requests came just a few months ago when we aided local law enforcement to secure the area surrounding a bridge implosion. We flew our UAS with a thermal camera to seek out thermal signatures and identify high-risk areas that needed to be evacuated. When the bridge was imploded, our pilot captured simultaneous videos of the blast. See the implosion in action here, showcasing another way UAS technology provides value to our industry.
In addition, on a recent bridge inspection, we were able to livestream an inspector on a bridge collecting information and providing feedback to a group of designers and technical bridge leaders back in the office. This was incredibly valuable to both parties as they were able to discuss what the inspector was seeing on-site in near real-time.
Our first time testing this functionality was on the Liberty Bridge in Pittsburgh, Pennsylvania. We provided a live video transmission of inspection services and emergency repair for PennDOT following a fire on the structure. Our use of UAS technology gave PennDOT engineers a live view of the critical bridge structure repair progress. Not only did the work provide decision makers with essential situational awareness, it showcased the value of UAS in an emergency response scenario. See the views our UAS captured of the repair work here.