Krista Stippelmans is a SPRAT Level 2 Rope Access Engineer and the Rope Access Team's Equipment Manager based in Denver, Colorado. Throughout her eight-year tenure at Michael Baker International she has performed numerous complex major river crossing inspections and strived to break down barriers for women in the rope access community. Her work with Pigeon Mountain Industries (PMI) on the development of the next-generation Hira harness has led to her becoming a Vertical Specialist with the manufacturing company.
What are your main duties as Equipment Manager?
As Equipment Manager, I manage inventory and order team gear as needed. I also build relationships with life safety equipment manufacturers and understand how their products can suit our needs. This means I get to engage in conversations about how we can better equip our team or adjust our systems for efficiency.
How did you get connected with PMI, and what role did you play in product development?
When I entered the rope access industry, I struggled to find a harness that fit in all the right places. Each piece of personal equipment I needed had many options for men but few to none specifically for women. Being the first female on Michael Baker's rope access team, I looked to outside vendors for recommendations. I knew PMI, a major rope and safety gear manufacturing company, had a female CEO, Loui McCurley, who was deeply invested in the rope access world and contacted her for support. After some back and forth, we decided to collaborate on a harness specific to women that would follow the anatomy of the wearer and become a new market for their company. Initial tests with the first prototype started in August of 2019. I received my own harness from PMI this past fall and plan use it as a part of my climbing kit next season, beginning with Michael Baker's Climb School in April.
On PMI's product page, it boasts the Hira harness as "The most advanced concept in women's harnesses at height." While working on this product, what features did you deem necessary?
The leg loop connectors are mounted inside the front risers, which allows the rope technician to completely release the leg loops to use the restroom while on the job, instead of having to completely remove the harness. This feature quite literally affords me the opportunity to stay hydrated while working and preserves my energy for my essential inspection tasks. The alternative in the past has been expending significant amounts of mental and physical energy to get to a place (the ground, a platform at the center of the bridge 20 panel points back, etc.) where I could safely remove my harness.
As an added perk, the harness features thick seat pads that cradle the leg comfortably to form a built-in work-seat that naturally lifts the legs into an ergonomic, seated position. The thinner, contoured shoulder straps provide firm support without rubbing on my neck while working.
How does a female-specific harness make your routine inspections more secure?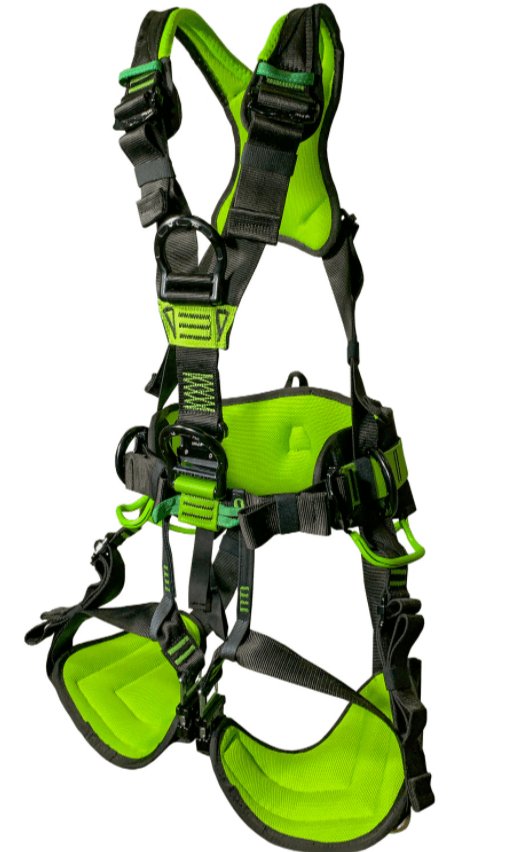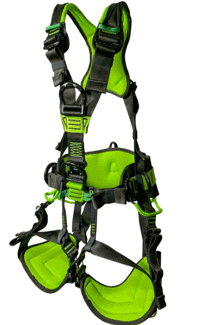 My day starts with putting on my harness, typically weighing in around 1/3 of my body weight and drinking plenty of water to hydrate before climbing 300 feet in the air to the top of a bridge. While inspecting, our team is climbing around the bridge, using our ropes for safety, and checking for defects. It's a job that requires an extreme amount of physical and mental energy. 
As the first female certified rope access bridge inspector at Michael Baker, I faced a unique challenge that my male counterparts hadn't yet considered. Staying well-hydrated increased the need to go to the bathroom, which was quite a challenge at 300 feet in the air in a harness that didn't allow it.
This women's specific harness allows me to reserve my physical and mental energy for my daily inspecting tasks, rather than on the challenges of staying well-hydrated.
Can you speak to the importance of equipment when approaching complex inspection jobs?
Our inspections can only be as safe as our equipment. Through training, we rely on our team members to know how to operate the equipment as intended, but it is essential that we have proper and reliable equipment that we can trust.
I would rather inspect a structure via rope access, rather than rely on a man-lift, which shows how much faith we put into our rope equipment and how comfortable we are operating it!
How would you encourage women who are looking to enter a rope access career?
Be bold, advocate for what you need, and don't settle for limiting equipment.
What makes Michael Baker stand out as a firm that provides rope access inspection?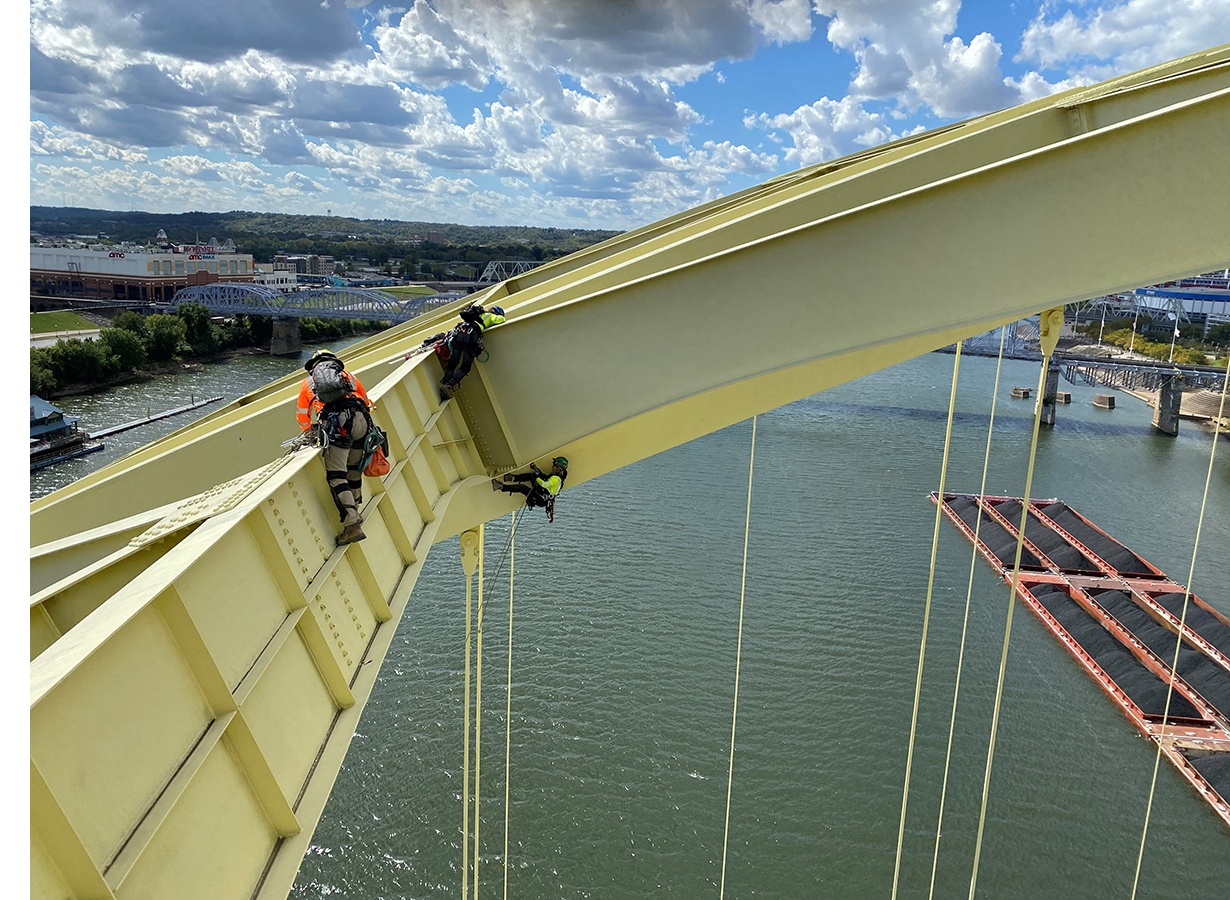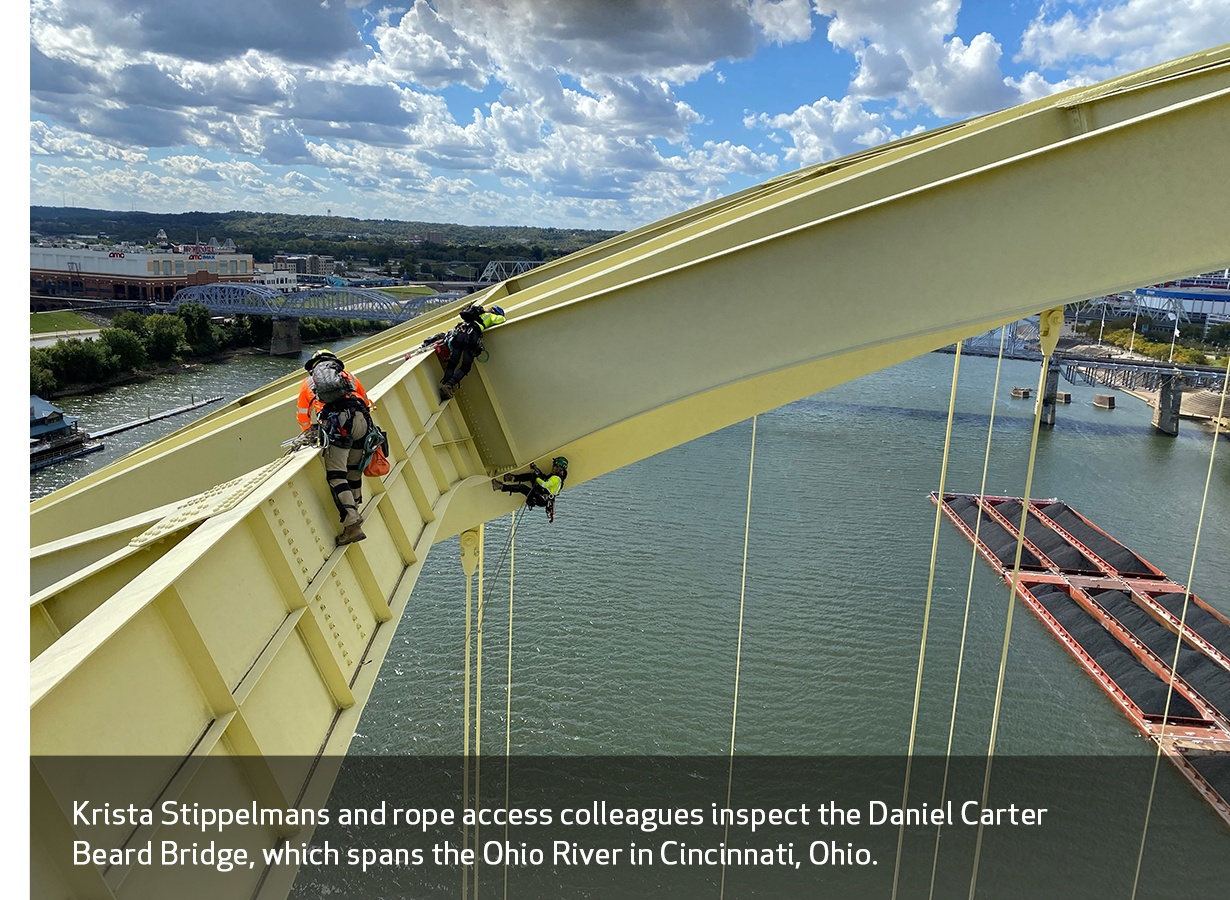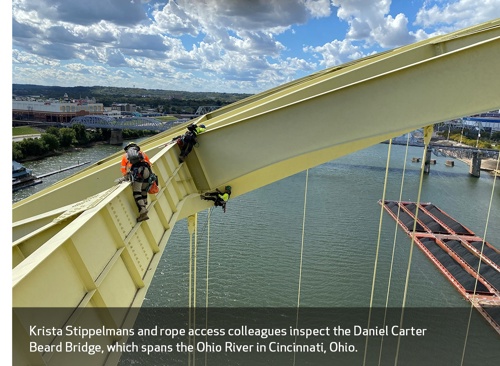 To me, it is the quality of our team. To be able to perform rope access inspections on major river bridges, it is essential for our teammates to work well together and trust one another. We quite literally trust each other with our lives on rope.
Over the years I have been on the team, the team has felt like a small family. We all go through the same training which creates a cohesiveness of shared knowledge. Starting this year, we are implementing an annual team climb school, which I believe will only continue to encourage this camaraderie.
What makes you feel proud of your role as a part of the Michael Baker team?
By advocating for and helping to create solutions for issues that women face in the rope access industry, my hope is that more and more women will feel comfortable and encouraged to enter into careers that get them off the ground. Since joining the team in 2017, our team has gained a few more female climbers. It's been extremely valuable to collaborate with these women, hear their stories and continue to work together toward solutions that break down barriers for us.
Do you have any interesting finds or discoveries while on a rope access job site?
I was recently a part of the team that discovered a critical fracture in a tie girder of the I-40 Hernando de Soto Bridge, which spans the Mississippi River between Arkansas and Tennessee. When the crack was discovered by one of my teammates, I was hanging on rope from the side of the bridge, performing my own inspection.
Our Rope Access Program Manager John Zuleger's MAYDAY communication came over our radios and our team quickly and safely evacuated to the deck, while our team on the ground called in the critical find and alerted emergency services. This is something we hope to only need to prepare for on paper or in training environments, and never in the field, but I could not be prouder of the way our team handled this emergency scenario.